Pick a plan to add audio to your blog and improve your
Monthly credit
Each month, your account is credited with the total of additional monthly words. You can also buy batches of words separately.
Lite
The Lite plan is the only one that doesn't include additional monthly words, but it comes with a one-time bonus of 10,000 words.
No words lost
As long as you have an active plan, unused words remain in your account. You will never lose any words – we understand your busy routine.
Human narrators
Real people narrating with real emotion, easy on the ear tone and engaging dynamism.
Specialized narrators
All our narrators follow our exclusive methodology built for content marketing.
Fast delivery
Delivery time of up to 48 working hours.
95% approval on the first version
Everybody makes mistakes, but 95% of the times, we ace it the first time.
Online ordering
Order your narrations through our platform and get email notifications when they're done.
Easy feedback
If needed, request narration adjustments through our platform.
Customizable responsive player
Change its color, offer a download option, and more. Readily compatible with Google AMP.
Seamless embedding
Easily add your audios to your blog posts and any other pages.
Extra distribution
Integrate to Spotify and Google Podcasts to reach new audiences.
Lead generation
Activate an in-player gateway to collect emails and names.
Native integrations
Send your leads directly to HubSpot, RD Station and through Zapier.
Audio analytics
Track your audio engagement with straightforward analytics.

Onboarding
Get the tailored human support right from the beginning.
Strategy
Count on our years of experience to build your unique strategy. Did you know that we created the audio post methodology back in 2016?
Reports
Understand the KPIs, get a benchmark and optimize your results through our expertise.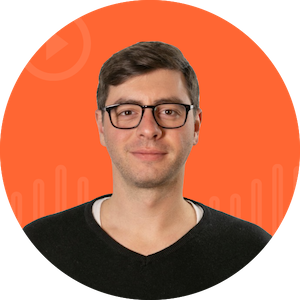 Alex Atkins Head of Growth at CXL
"I am very impressed with the VOOOZER platform. The process is intuitive and I can trust that each narration will be top-notch.
This is our first time testing out an all-in-one audio marketing solution and we're very happy we did.
I highly recommend VOOOZER to anyone seeking improved blog engagement and lead generation."
Subscription to the audio marketing platform for you to store, distribute, manage and analyze your audio content and results; audio player with a lead generation feature; integrations to other softwares (e.g. Zapier, HubSpot, RD Station, Spotify and Google Podcasts).
Blog posts, articles and ebooks narrations for you to increase the distribution and reach of your content without having to worry about hiring or training narrators.
According to extensive testing with references from the Digital Marketing market, such as GetResponse, CXL, RD Station, Rock Content, and in addition to the results of a long list of customers, we have the following expected benefits:
Increased reach and content distribution
Increased visitor engagement
Average Time on Page increase
SEO improvement
Increased lead generation
Improved lead qualification
Visitors loyalty
To find out more details and quantitative results, check out our Case Studies.
When hiring, you set how many words will be narrated monthly.
Month by month, you order the narrations directly through our platform, using a simple form, specifying the deadline for when you want to receive the narration and any additional information.
We will deliver the audios within 2 business days (48 working hours).
You are notified by email when a narration is ready and, if necessary, you can request a review/edit of the audio.
If you don't use all your words balance in a given month, it's pushed for the next month so you never lose any words.
Among many things, our platform allows you to:
Store and manage your audio content
Distribute your audio content through our audio player
Capture and monitor leads through our player
Order and review narrations quickly and easily
Track the results of your audio content
Export data for further analysis
Send captured leads automatically to Zapier, HubSpot and/or RD Station
Distribute your audios automatically through Spotify and Google Podcasts
We have monthly and yearly plans (with a great 25% discount).
Each plan may include:
Audio Platform
Customer Success Service
Monthly narrations
The values will vary according to the amount of words you would like per month.
You can order narrations of different sizes within the total word balance in your account.
You can hire only the platform if you produce your audio content internally, but you cannot hire only the narrations, since all the operation of ordering and approving narrations is done via the platform.
The minimum period for hire is one month, but if you choose to pay annually you have 2 huge perks:
25% discount
The availability to order the total of words in your 12 months plan. For example, if you choose the 5,000 words plan, instead of receiving the 5,000 words credit month by month, you get the 60,000 total words credit right on day one.
If you are on a monthly payment plan, you can cancel at any time and you won't have to pay for the next month. What is already paid for can't be refunded.
If you opted for the annual payment, you can cancel but what is already paid for can't be refunded as well.
We will send you a confirmation email to schedule your onboarding.