Discover how Rock Content increased their Time On Page by up to 43% and also increased their lead generation by 11%
Check out what you will learn from this case study
If you don't want to read everything, go straight to the results achieved by CLICKING HERE
If your company has a content marketing strategy and an active blog, just like Rock Content, we strongly recommend that you see this case study and the results achieved – especially if your company publishes 8 blog posts per month or more. You will see results of the VOOOZER Audio Marketing methodology applied by Rock Content. Stay tuned and understand:
How we increased their Time On Page by up to 43%
How we increased their lead generation by 11%
How VOOOZER complete solution was essential to achieve these results without much additional work
About Rock Content
USD 24,000,000 ARR
501 to 1,000 employees (Aug 2020)
Founded by three experienced professionals in the Digital Marketing market, Diego Gomes, Edmar Ferreira and Vitor Peçanha, the company was born inspired by the movement of the most mature markets in the world, who already knew that quality content was paramount for achieving success spending less on Internet.
From the first day of existence, Rock Content is a client of themselves. And they quickly realized that content marketing is a fantastic strategy to leverage the results of any business. And Rock Content results are a irrefutable proof of that.
Challenges & Goals
When we presented the VOOOZER solution for Rock Content in 2017, they made it clear that the main objective, at the time, was to increase Time On Page – mainly because this is one of the main ranking factors in SEO. This focus on engaging the user for a longer time ended up bringing surprising benefits in lead generation as well.
Solution
The Rock Content and VOOOZER partnership began with the standard focus: understanding the content marketing strategy applied, the main objectives and analyzing opportunities to take advantage of the potential of audio in the current strategy. Based on the diagnosis:
we did a 3-month experiment adding audio posts to a group of articles and saw an increase in Time On Page of up to 43%;
after the great engagement generated by the audio posts on the blog, Rock Content started publishing audio posts monthly and using the lead generation feature exclusive to the VOOOZER player;
and thus, increased the engagement of their visitors offering audio content and increased their monthly lead generation by 11%.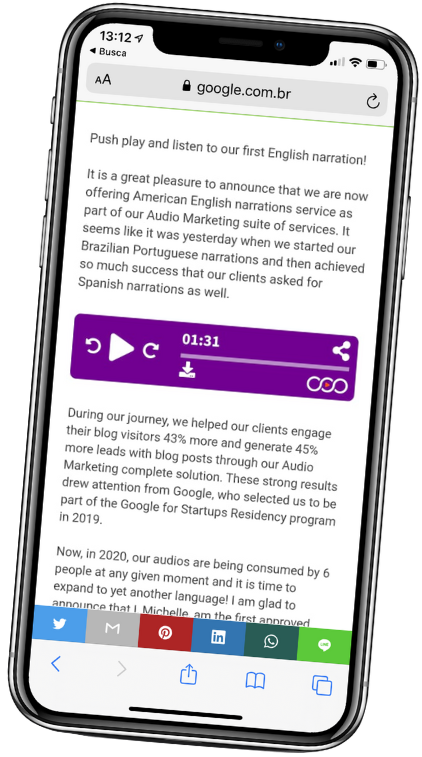 Main Highlights
Blog visitors more satisfied thanks to the convenience of audio and also praising the solution;
1.5% of unique visitors who consumed the audio (lead generation feature active);
00:07:53 Average Listen with audios;
31.9% of Complete Streams;
Engagement Multiplier of 349 – for each minute of published audio, 349 minutes of engagement are generated;
Increase of

11%

in the monthly Lead generation of the blog.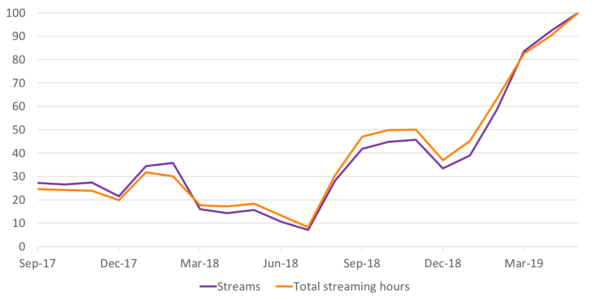 Testimonial
"At first I came across the partnership a little reluctantly, without putting much faith on it. I am not a big fan of 'reading' through audio. However, it would not make sense to say 'no' without testing and seeing the reaction of our buyer persona, after all, the blog is for them and not for me.
The result was impressive, in addition to helping to increase our Time on Page (one of the main SEO factors), the value it generated with our audience was absolutely relevant. We received countless incredible feedbacks that proved the value of having the audio version on our blog.
Months later, when we started using the lead capture generation of the player, VOOOZER became one of our main sources of acquisition of subscribers to the blog.
At the end, I was wrong – and I'm glad."
André Mousinho – Content Marketing and SEO Specialist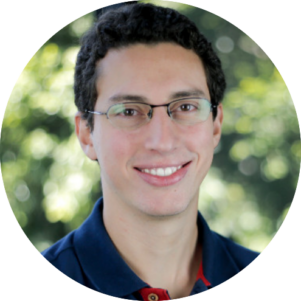 Closing thoughts
It is worth remembering that the VOOOZER Audio Posts methodology is as accessible as having a blog. If your company has a blog and several articles published, you can also order our narrations to publish directly in your articles with our exclusive player and enhance the results of the content you already produce.